Adventurer's Codex is a really powerful tool for players (and soon DMs) that makes it easy to keep track of all of the minutiae in D&D. In this series of blog posts, we're going to dive into some of the more powerful features in detail. We'll see how they work, what the benefits are, and how you, as a user, can take full advantage of the power of Adventurer's Codex.
Creating a new Character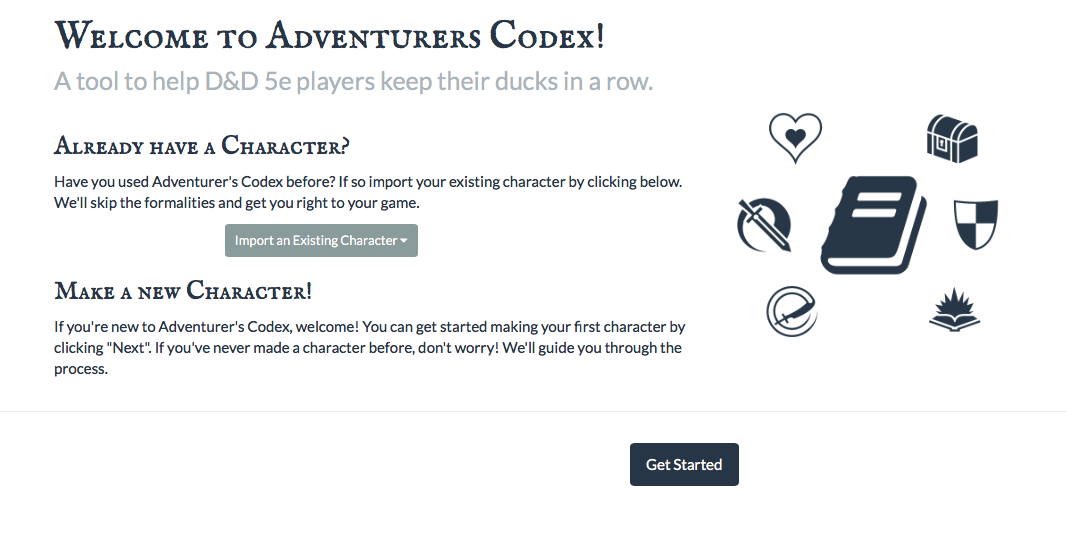 Starting from the beginning, the first thing we'll need to do is make a character. When you first visit the Adventurer's Codex app page, you'll see the character creation wizard which will guide you through the process.
Pro tip: If you already have a character, you can import their existing data (see: Importing/Exporting Characters)
We've made it really simple for a new player to create a basic character, and we've tried hard to make the process as easy as possible. Experienced players may want to skip through the process as quickly as possible and customize their sheet manually, and we've taken that into account as well. Just fill in only the required fields (player and character name) to get to the heart of the app quickly.
Add a Profile Picture
Once you're done creating a character, you'll be able to customize her/him even further by adding any items, skills, spells, stats, etc. You can even upload a custom profile picture for your character.
To add a picture, you can drag a photo onto the image placeholder, and drop it in the red ring.
Gravatar Support
If you're a Gravatar user, you can either supply your Gravatar email during character creation, or by clicking on settings, and entering it there. If you want to use a different profile picture, you can have multiple profiles per account. Gravatar is a great way to manage your profile pic, plus it works all across the open web!
Managing Multiple Characters
Some players, you know who you are, get really involved with D&D and will be in multiple games at the same time. If you're one of these people, then you're in luck: Adventurer's Codex supports multiple simultaneous characters!
To make a new character, simply click the "New" link under your profile picture, and you'll be taken to the character creation wizard. To see all of your characters click on the "Characters and Games" link under your profile. Click on a character's name to switch to them.
Adventurer's Codex also supports having multiple characters open at the same time in different browser tabs, in case a DM needs to see multiple NPCs, or a player has multiple characters in one game!
Importing/Exporting Characters
Characters in Adventurer's Codex are saved in your browser so there's no need to worry about losing data between sessions. But in case you want to save a copy of your character, or move your character between devices, you can always export their data, and import it again later!
Pro tip: Save a copy of your character in Dropbox, or some other cloud service, so that you're ready no matter where you are, or what computer you're using.
To any users on Safari, unfortunately when you're exporting a character, you'll be shown a new tab with a bunch of your data on it. You'll need to save this page (either by right clicking and selecting "Save" or pressing "Command + s" to save the page). Currently, Safari doesn't allow us to show you a nice, clean, downloaded file, but we're working on a solution.
Questions, Comments, Concerns?
We'd love to hear what you think of Adventurer's Codex, what features you love, what features you want, and what features you don't like or want changed. We built this tool for you, and we want to make it the best that it can be.
Talk to us on Twitter or send us an email at support@adventurerscodex.com with any suggestions, or comments you have! We can't wait to hear from you.
If you want to contribute, and make Adventurer's Codex better then, as always, drop by our Github page and checkout the project. We're always looking for great new ideas, and if you find any bugs, file an issue!