Greetings fellow adventurers! We hope you have been enjoying Adventurer's Codex so far. We have been very hard at work making our groundbreaking Collaboration Tools. We are excited to show them off to you, but we have faced various technical challenges in development. In the meantime, we have some other fun updates to share with everyone!
v1.4 Release Giveaway
In order to celebrate the release of v1.4, we're having a giveaway! We will have further instructions on how to be eligible for the giveaway once v1.4 has been released in the coming month. We will be giving away four books; two Tales from the Yawning Portal from Wizards of the Coast, one Adventures in Middle-Earth Player's Guide from Cubicle 7, and one Tome of Beasts from Kobold Press.
Version 1.4 Sneak Peak
Creating our vision of the next step in tabletop RPGs has been more challenging than we thought, but this has not deterred us from our end goal. Version 1.4 will bring two brand new Collaboration Tools; Party and Chat. The Party tool allows DMs to see their player's stats in real time. Information such as Hit Points, Initiative, Passive Wisdom, Spell Save DC, and more. Chat allows for group or private messaging to any user logged in to Adventurer's Codex. These are not the only Collaboration Tools we plan to make, so make sure to stay tuned for updates.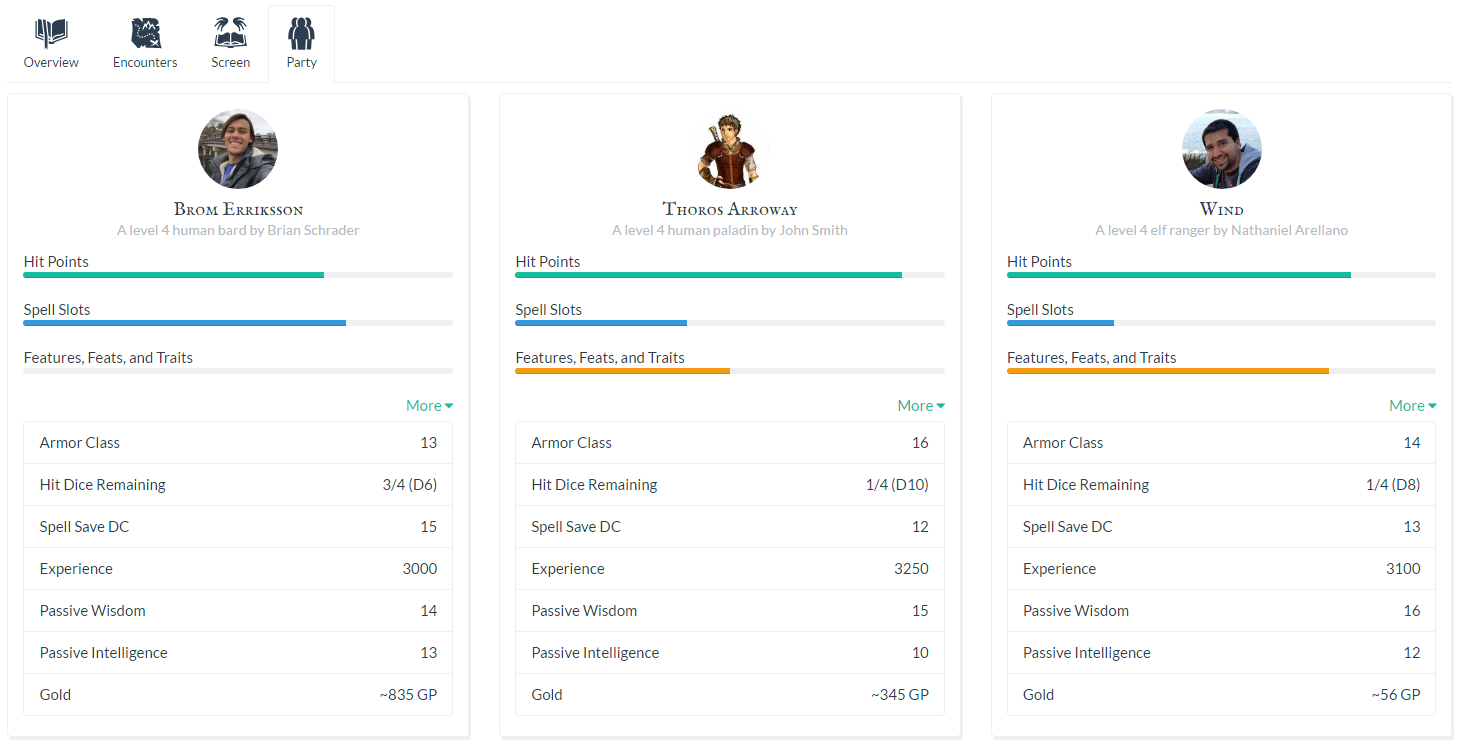 Patreon
We are very passionate and happy to continue developing Adventurer's Codex for free to everyone. If you like what we do, please support us on Patreon. Silver Patrons get on the Wall of Thanks!
Reddit
If you like Reddit, you'll be happy to know that we have opened our own subreddit, /r/adventurerscodex. Feel free to post here about what you like, what you don't like, or chat with others about how you use Adventurer's Codex in your own games.
Open SRD Data
When we started Adventurer's Codex, we were surprised there was no community built web service for the open data Wizards provides in the SRD. As we began adding SRD data to Adventurer's Codex, for auto-complete purposes, we started to model the data in a standard format. We are proud to announce that all the data in Adventurer's Codex is available for anyone to use in their own project or just browse.
Please note the data is available under the terms of the Open Gaming License, Version 1.0a.
Questions, Comments, Concerns?
We'd love to hear what you think of Adventurer's Codex, what features you love, what features you want, and what features you don't like or want changed. We built this tool for you, and we want to make it the best that it can be.
Talk to us Facebook, Twitter, Google+, Reddit, or send us an email at support@adventurerscodex.com with any suggestions, or comments you have! We can't wait to hear from you.
If you want to contribute, and make Adventurer's Codex even better, as always, drop by our Github page and checkout the project. We're always looking for great new ideas, and if you find any bugs, file an issue!