Today we're proud to announce our longest-anticipated and biggest update yet! In this release we've added a suite of new tools that allow players to chat with others in their group as well as a new Party Dashboard for DMs that allows them to see their player's stats in real-time!
Book Giveaway
This release was a monstrous undertaking for us, and so to celebrate, we're holding a book giveaway! We'll be giving away these 4 D&D related books:
Tales of the Yawning Portal (2 copies)
Adventures in Middle Earth (2 copies)
These are brand new, official, hardcover books, and they're waiting to have their secrets uncovered by you! In order to be eligible for the giveaway, you'll have to complete these 3 easy steps:
Create an Adventurer's Codex account here
Complete the Survey located in your Account Profile
Have fun using the new version of Adventurer's Codex
On June 15th, four lucky winners will be randomly selected to receive a copy of one of the four books. Make sure you sign up with a valid, working email. You wouldn't want to miss out on this epic giveaway!
As with any survey, we're looking for your honest feedback: what you do/don't like, and any improvements you'd like to see. Your feedback is extremely important to us and will most certainly shape the evolution of Adventurer's Codex.
Fun for the Whole Party
With this new set of features, we've made it possible for Players and DMs to join a Party together. Creating a Party is as simple as a few clicks or taps. Once the Party is connected, there is no more work to do. This simplicity allows the DM and Players to focus on what matters: the game. These tools are perfect for groups of any size, so grab your adventuring buddies and set off to a new horizon. See the full list of features here
Important: You must create an account to use these new tools.
Party - Players & DM
Creating a Party allows other Players to connect to a room, which is the first step to unlocking all of our new tools. Anyone can create a room, and we've tried to make this step as fun and easy as possible. When you create a room, a random phrase will be generated for you. This is the ID your friends will use to join your Party. Have fun with these phrases, we sure did.
Some of our favorites are: steep-unicorn, expert-werepanther, and sandy-silph.
Keep in mind that these tools are great even if the whole party isn't able to join in. DMs can still see the stats of anyone who's connected, and Players can still chat with others in the room.
Party Dashboard - DM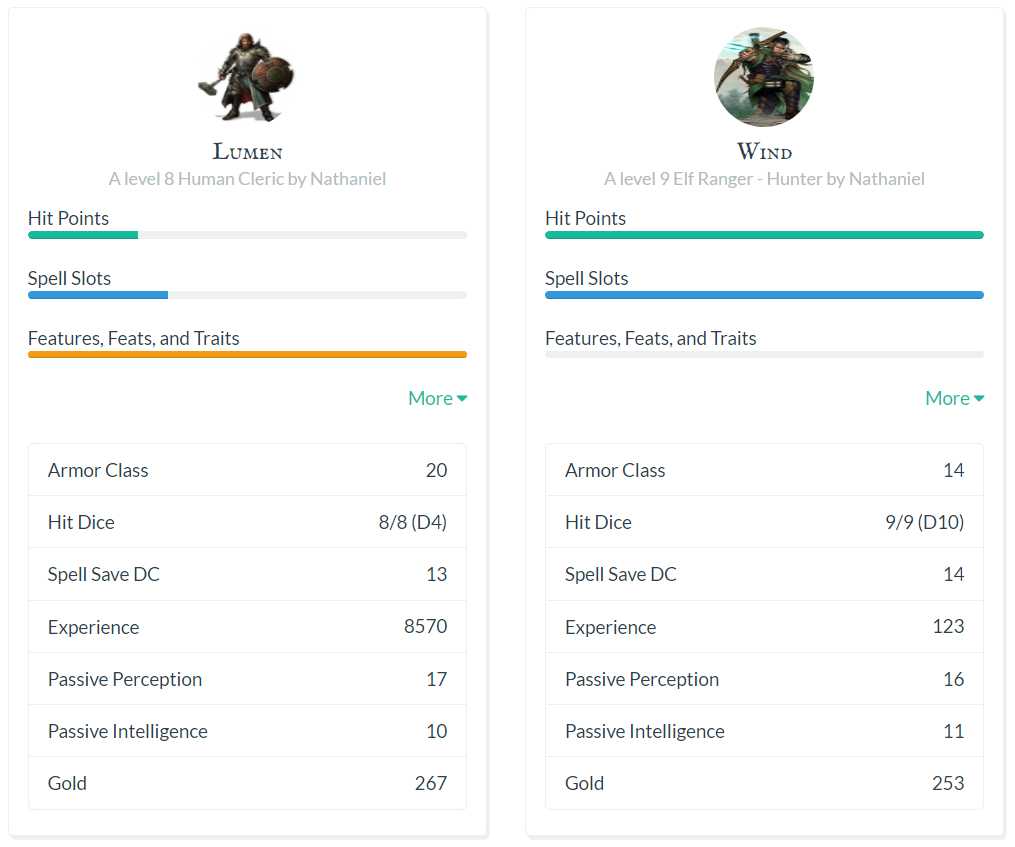 Once everyone is connected to the Party, the DM will be able to see all of their Players' stats in real time! We call these Player Cards. The DM can use these cards to keep careful tabs on their Players, or they can take a more laid back approach and minimize the data displayed.
We've got a ton of new features planned for this powerful tool, so stay tuned. Is there something missing from the Player Card? E-mail us at support@adventurerscodex.com and let us know what you'd like to see added.
As a DM, it's often tough to gauge how your party is doing during an adventure. Are they hurt, or can they easily recover? Are they magically drained, but still healthy? To help DMs get a better feel for the overall well-being of their party, we're introducing a new Party Status Line which details the Party's Healthiness, Magic, and Tracked Statuses.
Chat - Players & DM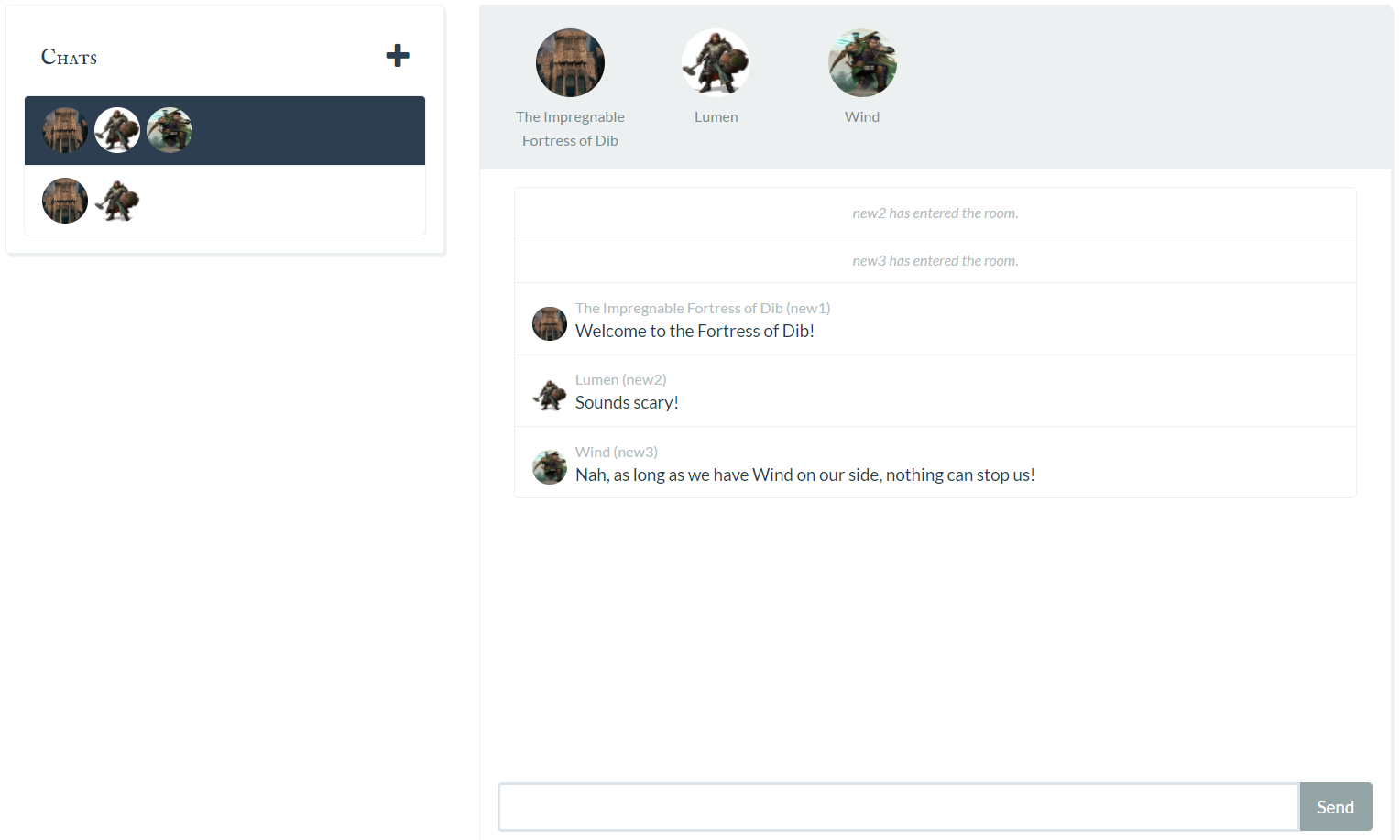 As a DM, it's hard to tell a specific person about something their character notices without telling the whole group. This can lead to frustrating situations for everyone involved. Our new Chat solves this problem! With it, you can create private chat rooms with one or many Players in your Party. By default there's also a group chat with everyone in the Party.
As a Player, you get a lot of tid bits of information from your DM, and it's difficult to remember everything. For this exact reason, we've given Players the ability to save any chat message to their Notes with a single click.
We hope that chat is useful for both Players and DMs. Players can quietly scheme with their fellow adventurers and DMs can send vital information to all players at once.
Character Statuses
With this release our Character Status Line has undergone a significant upgrade. We've added three new Statuses: Healthiness, Magical Ability, and Tracked Ability. These new Statuses let you see how your character is doing at a quick glance.

Healthiness
Healthiness is a measure of how much more damage your character can take before fainting. This Status takes into account two things: total health and remaining hit dice.
Magical Ability
Magical Ability is a measure of how many more spells you can cast. If your character is a spell caster, this Status might be even more important than your Healthiness. This Status takes into account all your spell slots. Higher level spell slots have more weight than lower level spell slots. Which means that using more higher level spells will decrease your Magical Ability faster than using lower level spells.
Tracked Ability
Tracked Abilities is a measure of how many tracked abilities are available to your character. These are all the abilities in your skills tab, like Dragon Breath or Lay on Hands. All of these tracked abilities are weighed equally, so no one skill is more important than the other.
Save To Dropbox
Another long-awaited, and critical, feature has been added in this release. Previously, you could only import your characters and campaigns from Dropbox, but now we have added the ability to save to your Dropbox as well! Check out the new option in the Export window!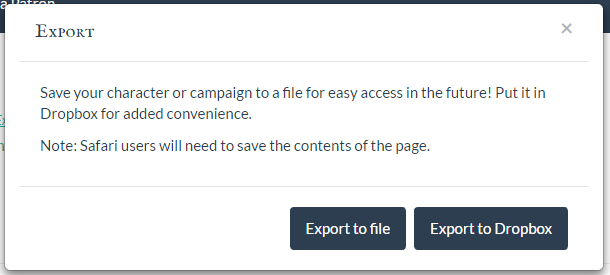 Important: You must enable pop-ups to use this feature.
Patreon
We love building Adventurer's Codex, and we want to make it as free for all as we can. That being said, we do have expenses. If you like what we do, please consider supporting us on Patreon. Silver Patrons even get their name on the Wall of Thanks!
Questions, Comments, Concerns?
We'd love to hear what you think of Adventurer's Codex, what features you love, what features you want, and what features you don't like or want changed. We built this tool for you, and we want to make it the best that it can be.
Talk to us Facebook, Twitter, Google+, Reddit, or send us an email at support@adventurerscodex.com with any suggestions, or comments you have! We can't wait to hear from you.
If you want to contribute, and make Adventurer's Codex even better, as always, drop by our Github page and checkout the project. We're always looking for great new ideas, and if you find any bugs, file an issue!