Well, we did it, it's been almost exactly two weeks since our last release, and we're back with another! It's been fun to take a break and work on a few smaller features over the holidays. We said we wanted to do smaller, more frequent releases and we're off to a good start so far. We've mostly focused on squashing bugs, but we've also added a few new features as well.
Point Buy Support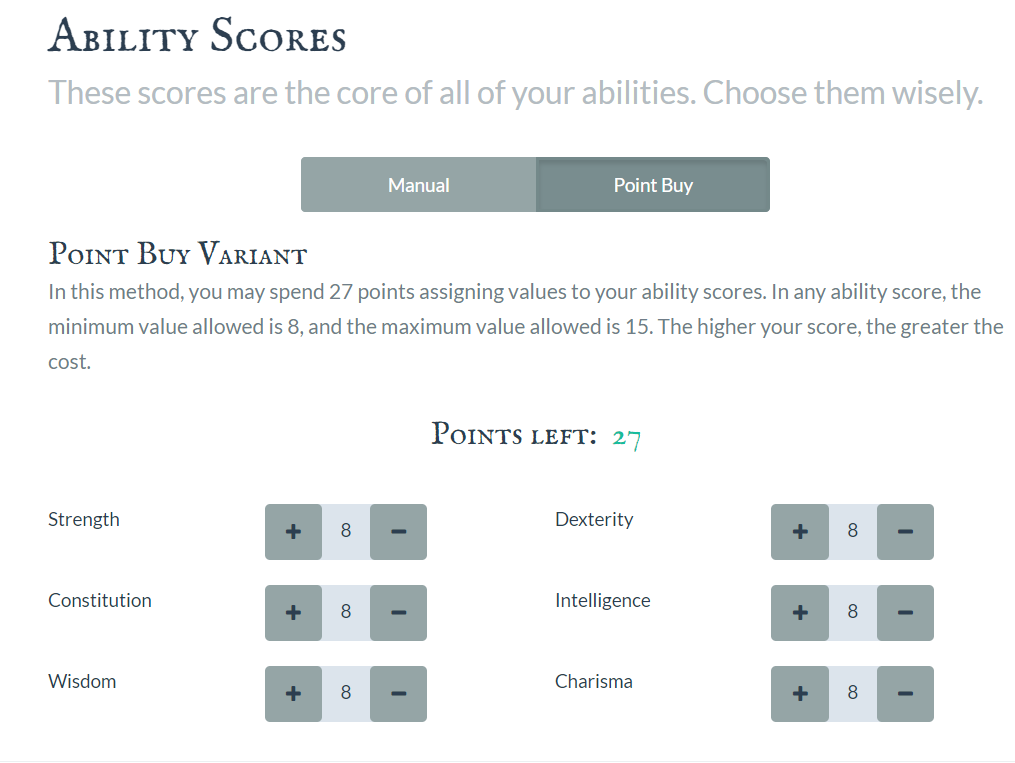 We've added support for the popular Point Buy Variant method of choosing ability scores. We'll track the total number of points you've used and how many you have left to spend. We know a lot of you out there have been asking for this, and we hope you like it.
Full Screen Images
We know that a lot of times, DMs and players want to see images of terrain or monsters more close up, so now when you click on an image in the chat, exhibit, encounters, and more, a new full-screen version of the image will appear. Read more about Full Screen Images here.
New Status Line State and Hit Dice Enhancements

We've improved the player status line, by not only fixing a long standing bug, but also adding new dead and unconscious, but stable states. We've also shored up the death saves: they'll only show when your character is out of hit points. Hopefully this will help de-clutter the Health section.
Homebrew Enhancements
We've removed a few limitations on what some fields can contain in sections like Weapons, Armor, and Items, but we have preserved the time-saving autocomplete features that was originally there. This should hopefully make adding your homebrew weapon types or magic schools quick and easy. We'd love to hear how you use Adventurer's Codex for your homebrew game and any suggestions you have for how to improve our homebrew support!
Character Management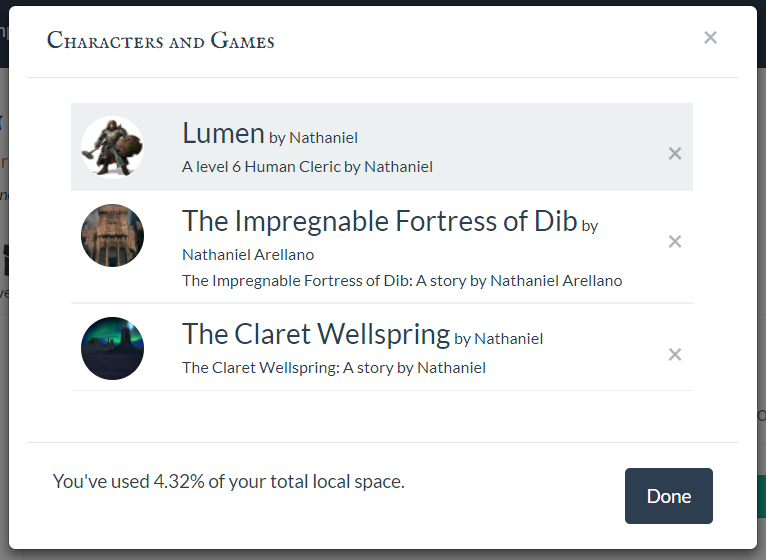 We've updated the app to be smarter with your characters and campaigns. When you refresh the page, the app will remember the last character and tab you were on. Also, the Characters and Games modal now highlights the character or campaign you're currently on. Finally, you are no longer changed to a different character or campaign when you delete another character or campaign (unless you're deleting the one you're currently on).
Lots of other changes and improvements
We've done lots of other small improvements over the last two weeks, and while our official CHANGELOG has the full list, here's a taste of what you'll see in 1.6.
Improvements to how the app looks on very large, and very small devices.
Stability improvements with older browsers.
Improvements with deleting notes
Moved menu items to the navigation bar
Various other UI enhancements.
---
Questions, Comments, Concerns?
We'd love to hear what you think of Adventurer's Codex, what features you love, what features you want, and what features you don't like or want changed. We built this tool for you, and we want to make it the best that it can be. If you like what you see, support us on Patreon. The funding we get from users like you helps us pay for servers and other operations costs.
Talk to us Facebook, Twitter, Google+, Reddit, or send us an email at support@adventurerscodex.com with any suggestions, or comments you have! We can't wait to hear from you.
If you want to contribute, and make Adventurer's Codex even better, as always, drop by our Github page and checkout the project. We're always looking for great new ideas, and if you find any bugs, file an issue!