Hail Adventurers! We're back with another great update to Adventurer's Codex. This time we're showcasing the work of friend-of-the-site Dave Mote who has put together a lovely new section for the player tools! We've also got a second smaller integration we're excited to show off, so let's get into it!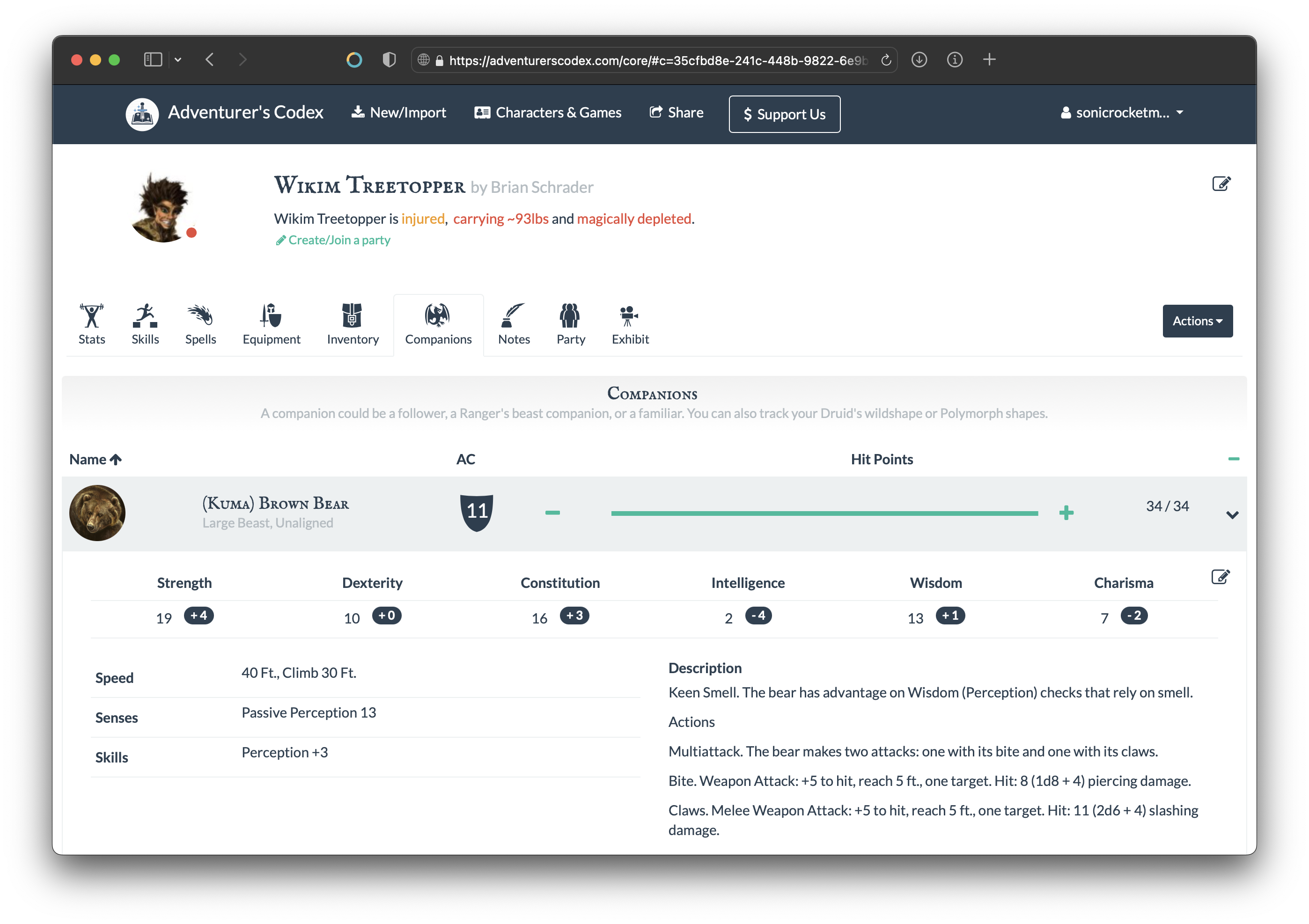 Companions, Pets, Familiars, Summons, Wild Shapes, and more
Over the years we've gotten a lot of requests to support what we've called Companions. These companions could be hired workers, NPCs, pets, or familiars. They could even be more abstract things like Druid Wild Shapes and elemental summons. Well, our friend-of-the-site Dave Mote has put together something very special: a new companions tab that allows players to track and record their various companions.
Companions have their own health bar, stats, notes, and more so players can track every aspect of their companion's needs. They also autofill based on the DM's Monster information, so you can automatically prepopulate any data found in the SRD.
We hope you all find the new Companions tab useful and we're excited to see what you do with it.
Links to d20.photos

Brian Schrader, a core Adventurer's Codex developer, has been running a site called d20.photos for a few years now. The site hosts freely-available, public-domain, nature photos for use in tabletop RPGs like D&D.
Now, we've added links to the site in a few places in the DM tools to help you find and share cool images with your party.
We've also fixed a number of other minor issues and put things in place for some exciting features coming in the near future!
Like What We're Doing?
We wouldn't be here today if not for our fabulous patrons. If you like Adventurer's Codex, then please consider becoming a sponsor and help us keep this site up and running! We really do appreciate your donations!
Questions, Comments, Concerns?
We'd love to hear what you think of Adventurer's Codex, what features you love, what features you want, and what features you don't like or want changed. We built this tool for you, and we want to make it the best that it can be. If you like what you see, support us on Patreon. The funding we get from users like you helps us pay for servers and other operations costs.
Talk to us Facebook, Twitter, Reddit, Discord, or send us an email at support@adventurerscodex.com with any suggestions, or comments you have! We can't wait to hear from you.
If you want to contribute, and make Adventurer's Codex even better, as always, drop by our Github page and checkout the project. We're always looking for great new ideas, and if you find any bugs, file an issue!