Greetings Adventurers! It's that time again! Let's talk about a suite of new changes to Adventurer's Codex. We've got a new little basket of stuff this time (and lots more coming soon)!
Levelling Up the Wizard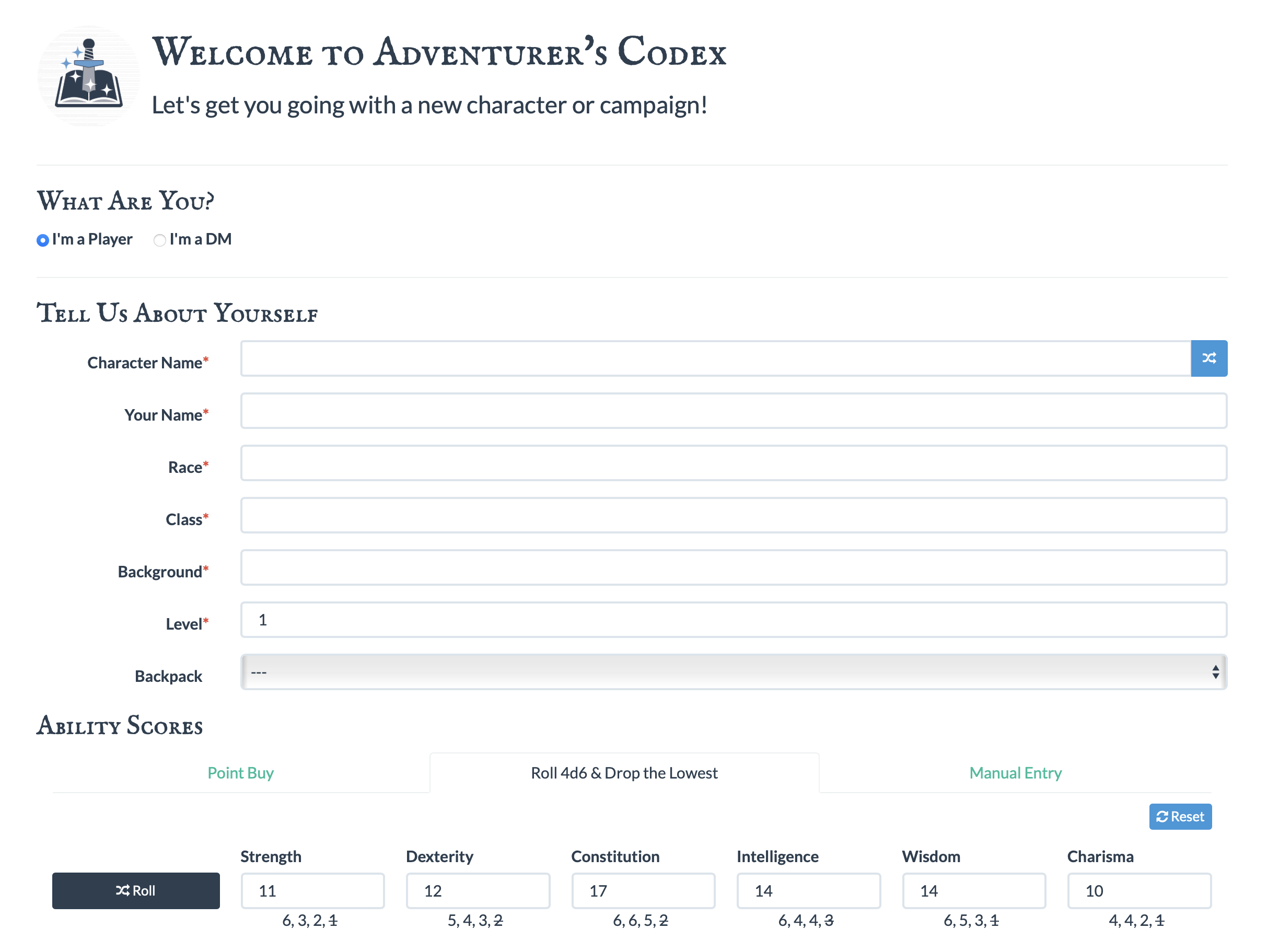 The biggest change in this new release is the complete rewrite of our Character & Campaign Creation Wizard. We've dramatically simplified the Character Creation process and even added a new stat-rolling mechanism.
Adventurer's Codex can now populate your new character's stats by rolling 4d6 and drop the lowest value for each stat. We even give you a printout of the values rolled and which was dropped.
The Wizard works great on mobile devices too! We hope this new Character & Campaign creation process helps users get started on Adventurer's Codex faster and easier than ever.
This new character creation process does everything the old one did and more! And it even includes a new feature which we will discuss in the next section.
Need Names?

DMs and Players now have the ability to generate random names for their characters & NPCs! This feature is in part thanks to the wonderful sharing of code by Donjon.bin.sh.
Struggling to think of a good name? Fret no longer.
Need Weather?

DMs now have a new button in their Encounter Environment section that can generate random weather for a given encounter. Need some weather? We got you.
Bug Fixes!
Along with this release is a bug fix that improves the experience of browsing encounters for DMs on mobile devices. Selecting the disclosure indicator on an encounter to disclose its children no longer takes you into the encounter. This was an annoying bug and those responsible have been sacked.
Like What We're Doing?
We wouldn't be here today if not for our fabulous patrons. If you like Adventurer's Codex, then please consider becoming a sponsor and help us keep this site up and running! We really do appreciate your donations!
Questions, Comments, Concerns?
We'd love to hear what you think of Adventurer's Codex, what features you love, what features you want, and what features you don't like or want changed. We built this tool for you, and we want to make it the best that it can be. If you like what you see, support us on Patreon. The funding we get from users like you helps us pay for servers and other operations costs.
Talk to us Facebook, Twitter, Reddit, Discord, or send us an email at support@adventurerscodex.com with any suggestions, or comments you have! We can't wait to hear from you.
If you want to contribute, and make Adventurer's Codex even better, as always, drop by our Github page and checkout the project. We're always looking for great new ideas, and if you find any bugs, file an issue!